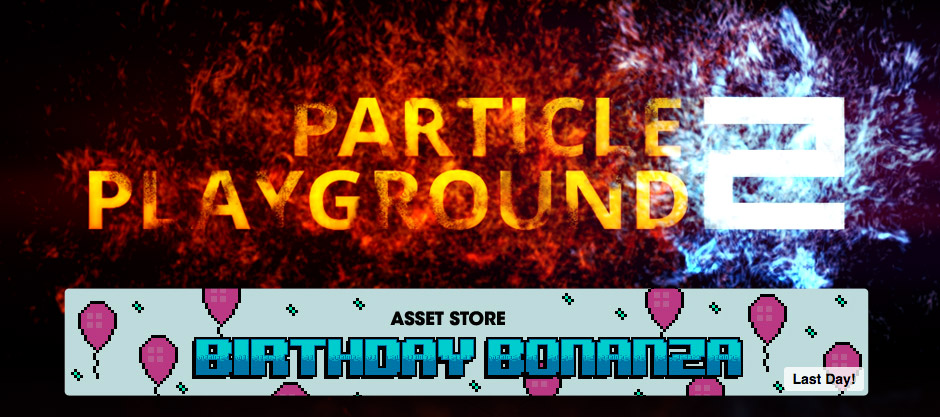 The Unity Asset Store recently turned four years (hurray!). In the meantime they had their biggest sale ever with 27 great assets at a reduced price and along with those Particle Playground was chosen to celebrate. I could not in my wildest dreams have imagined the amount of people who would swing by the store to grab a copy.
Let's ogle at some numbers

The Asset Store chose to lift the Playground to the front page two days before the Birthday Bonanza took place and during the first day, which immediately had an effect on the initial visitors and sales (1,900 users Sunday and Monday). Over the 10 days starting Tuesday the product page had 16,645 sessions of 13,479 users. The majority of those were from the United States by 21.83%, but it's noticeable that Unity has a growing market in Japan (7.81%) and South Korea (5.92%). I can only imagine that market will increase greatly, so it's time to start thinking about localizing content.
The result during this 10 day period was 1526 licenses sold and a lot of great feedback to improve upon. I'd like to welcome all of you to the Playground, looking forward to hear more from you in the user group and to see what things you've come up with using the framework. Thank you for believing in the project, your contribution will be put right back into the product.
And to the Asset Store team, all I can really say is: Holy bananas people, thanks for making this possible!
What's next?
Thanks to all great feedback during the last couple of months the Playground has gotten itself a really interesting roadmap. It's great to see that a user driven development approach really is a strong concept in making a valuable product. During the upcoming updates you should be able to expect these additions:
Splines
Multi-transform support as Source
Vector fields
Pre-warming
State target Manipulators
State atlas animation
Friction-based collisions
Calculation cycle improvements
I'm also exploring the possibilities of opening up a user contributed particle system gallery, so we can share effects with each other directly from within the framework. If you have more things to add then make sure to stay in touch in the user group.
As soon as my voice is back from the flu some video guides will be made available. Thanks again for all your support in making the Playground a fun place to create effects in!
Lars-Erik Ronnheden – CEO Polyfied